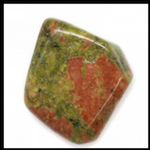 Unakite (Unikite) can assist one in finding one's animal guide. Also helpful for gardening. It is a good protection stone. Unakite brings unconditional love of humanity, connection and reunion. It can help with healing of abandonment and separation issues. Unakite is said to benefit the heart, circulatory system, female reproductive system, male reproductive system (to a lesser extent), and ease pregnancy and childbirth.
.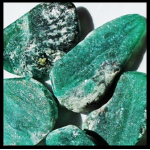 Verdite stimulates the energy centers/chakras. It can assist the movement of Kundalini. Often, verdite is used to access and assimilate ancient knowledge. Emotionally, verdite brings consistency, stability, and fortitude. Physically verdite is used for cleansing the blood, removing toxins, and clearing genital disorders.
.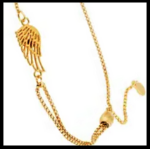 Vermeil is sterling silver coated with a heavy, more durable gold electroplating. This combines the lore of both gold and silver including wealth, happiness, good feelings, intuition, removing negative energies, moon energies, and more.
.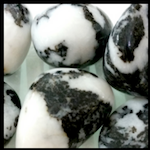 Zebra stone can help us connect to mother earth and to the infinite energy and love in the universe. It can show us our own true natures and help us see past illusion. Zebra stone is particularly effective at protecting one's aura. Physically, it stimulates energy, and is beneficial for stamina, endurance, bone disorders, osteoporosis, teeth, gums, muscle spasms, and heart palpitations.
.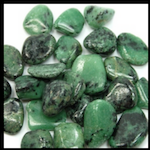 Zoisite (green) brings and enhances trust in the universe and trust in the ultimate goodness of life. This releases fears, which can bring a depth of happiness to one's life. Zoisite is also said to bring energy and dispel laziness. It is good for vitality, adrenal glands, reproductive organs, and strengthening the heart. Zoisite is associated primarily with the heart chakra, but is sometimes associated with the root and sacral chakras.

Any questions, please feel to free to email Katherine at [email protected]